Message from the President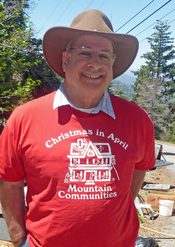 Once again, Christmas in April Rebuilding Day was a huge success, and I am totally amazed at the hard work and enthusiasm of this wonderful community.  Rain, snow and fog notwithstanding, when it comes to helping others, you can't beat the folks who volunteer year after year to help their neighbors.  Your generosity and hard work have gone above and beyond all expectations!  In this our 21st year, we selected and refurbished 8 homes, forever making a difference in as many lives.  Generosity is like a muscle, the more you use it the stronger it gets and this, my friend, this is one strong community.
Our fundraising was incredible.  I want to say Thank You to Rim O' the World Association of Realtors, who co-sponsored our Benefit Dinner Auction and made it a huge success.  Thanks also to the Lake Arrowhead Country Club, who not only donated their facility to house the Event, but included a complete dinner with all the trimmings for approximately 200 people.
Thanks to our Home Sponsors, Union Bank, California Bank and Trust, Lake Arrowhead Community Presbyterian Church, Lake Arrowhead Hobie Fleet 434, Lake Arrowhead Rotary, Mountain Sunrise Rotary, Serenity Lodge, St. Richard's Episcopal Church, and DiCarlo Family Trust, as well as many others, who donated funds necessary to improve the lives of eight grateful homeowners. A big Thank You to Rim Forest Lumber for providing supplies and materials at a reduced cost to us.
Much appreciation goes to the members of our Board of Directors, who work tirelessly throughout the year to accomplish the goal of keeping our deserving seniors safe, warm and dry in their own homes.  Without their efforts, we could not have pulled it off.
I am looking forward to another great year.  So do yourself a favor on the last Saturday in April, come out, pitch in, and bless a needy neighbor.
President
Wayne Palmer