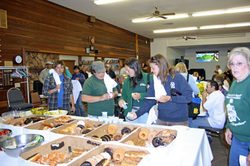 Fortified with coffee, doughnuts and fruit, with clouds and fog looming overhead, 300+ community volunteers headed off to their assignments. They were part of Rebuilding Together's National Rebuilding Day, still affectionately known as Christmas in April here in the mountains.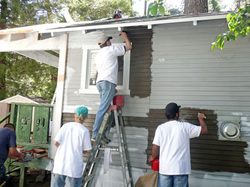 The work took place at several locations from Arrowbear Lake to Crestline. The team of volunteers at each site was overseen by a House Captain, a licensed contractor who, not only planned the project and ordered the materials, but also made sure everything went smoothly on the big event day. "We want to make sure we get the job done professionally and complete everything we start," said Sue Parks, Rebuilding Together Board Member. "If that means going back another day, then so be it! Wayne (Palmer) insists on having a licensed contractor at each site so that the homeowner gets a professional job."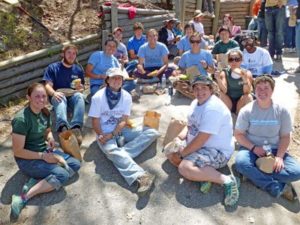 A delicious lunch made by volunteers is brought to each project. Bottled water and drinks are available all day.
At the end of the long day, the volunteers made their way back to the Mountain Communties Senior Center in Twin Peaks where they had registered in the morning. They were greeted by the delicious aroma of spaghetti sauce and garlic bread, prepared by members of the Mountain Sunrise Rotary club under the direction of Thacker Whyte. Palmer expressed thanks to the Rebuilding Together Board and all the volunteers. "God bless every one of you," he said. "We'll see you next year."