Message fr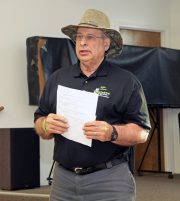 om the President 2021
For the 27th year, Rebuilding Together Mountain Communities has once again done its part in bringing the generosity of this great community to those homeowners with few options, so that they can continue to live safely and enjoy their home.
Because of the restrictions of the pandemic, we could not have large groups and gatherings of volunteers to make the repairs on the homes. For the second year in a row, we did not have our Rebuilding Day on the last Saturday in April. But, that did not stop us from helping four homeowners that our Home Selection Committee chose last fall. Instead, we did what we did last year. And that was, to hire licensed contractors and tradesmen to go out and make the repairs, in much the same manner as we do in our year round Emergency Repair program. We are hoping next year we will return to normal and once again enjoy the camaraderie, blessings and inspiration we get from our gatherings and volunteers.
As it turned out, because we started early, we were able to complete all the repairs that we would normally do on Rebuilding Day by the time that day came around. Again this year, I would like to thank Susan Parks for all the additional work she did this year, and our committed board of directors.
Our year-round Emergency and Home Safety Modification Programs also help many more homeowners.
Our motto is "Warm Safe & Dry". With that as our guide, over the years, we have touched the lives of hundreds of needy people and given them a venue to express their love and generosity to those who desperately need it. Our hope is, as we refurbish homes, we change the lives forever of all involved.
I am so very grateful to all those who gave from the heart and made this year a success. I am looking forward to another great year. So, do yourself a favor on the last Saturday in April, "Come out, pitch in, and bless a neighbor in need."
President