Message fr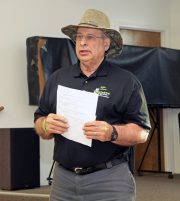 om the President
For the 25th year, Rebuilding Together Mountain Communities brought together the needy, the generous, the talented, the willing, and the hard working to provide much benefit to some of the most needy homeowners in our community.
This year Rebuilding Together Mountain Communities was recognized Non-Profit of the year by the Lake Arrowhead Communities Chamber of Commerce. We received Certificates of Recognition from Congressman Paul Cook, Assemblyman Jay Obernolte, as well as the San Bernardino County Board of Supervisors. This award is a great honor, and our volunteers work hard to serve members of our community who are in extreme need of home repair and refurbishment.
Rebuilding Day in April has been our main program since our inception in 1994. After a careful selection process, community volunteers refurbish 5 to 8 homes each year. We also offer an Emergency Repair program that handles problems that can't wait for our annual Rebuilding Day. The Home Modification Program installs grab bars, smoke and CO alarms and other safety devices throughout the year.
Our motto is "Warm Safe & Dry". With that as our guide, we have touched the lives of hundreds of needy people and given so many generous people a venue to express their love and generosity to so many who desperately need it. Our hope is, as we refurbish homes, we change the lives of all involved.
I am so very grateful to all those who gave from the heart and made this year a success. I am looking forward to another great year. So, do yourself a favor on the last Saturday in April, "Come out, pitch in, and bless a needy neighbor."
President