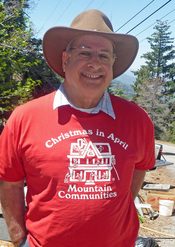 Once again, I am totally amazed at the generosity and hard work of this wonderful comunity. Come rain or shine and sometimes snow, when it comes to helping each other, you can't beat this community we live in. Year after year you all have gone above and beyond all expectations. In this, our 23 year, we have selected and refurbished 6 homes and 15 emergency repairs, forever making a difference in as many lives. I thank God for this great and generous community.
We had some big changes this year in fund raising. We have decided, along with the Board of Realtors, after more than 20 years, to no longer have the Rebuilding Together Auction. As a result, we are more than ever dependent on other forms of donations. We need all the help we can get. So, please do what you can. You are so appreciated.
I would like to send a big thank you to Lowes for being our Rebuilding Day Sponsor this year. Since we are no longer having a Rebuilding Day Auction, their large donation was key to making our Rebuilding Day possible. Thanks also to our house sponsors, Union Bank, California Bank and Trust, Lake Arrowhead Community Presbyterian Church, Lake Arrowhead Rotary, Mountain Sunrise Rotary, Serenity Lodge, St. Richard's Episcopal Church, San Manuel Band of Mission Indians, Bill & Dinah Ruch Foundation, and DiCarlo Family Trust for providing the funds needed, along with many others that gave so selflessly. In addition, a big thank you to Rim Forest Lumber for giving so much of the supplies we needed. I also want to give thanks to our Board of Directors, without which, we could not have pulled it off.
We also received a large donation of $10,000 from an anonymous donor for our year-round Emergency Repair Program. With this program we help as many as 15 homeowners with repairs that could not wait for Rebuilding Day. This is a program that is not well known but is so important to so many because we are able to solve their problem quickly. Just another way we make a difference in the lives of others.
I am looking forward to another great year. So, do yourself a favor on the last Saturday in April, "Come out, pitch in, and bless a needy neighbor."
President
Wayne Palmer