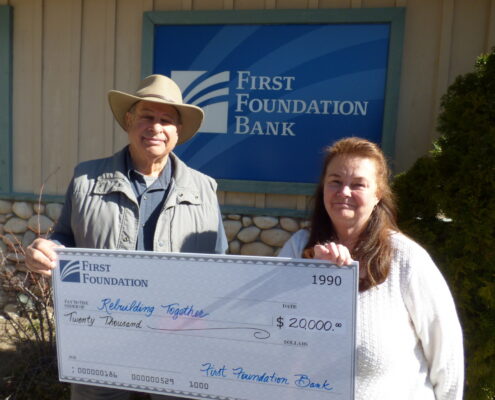 Teresa Weber, the Branch Manager of First Foundation Bank in Running Springs, recently contacted their main office in El Segundo recommending Rebuilding Together Mountain Communities as a worthy cause for the banks support. We were touched by their two-year commitment of $10,000 a year to be used in our year-round Emergency Repair program. What a blessing!
After the trauma of the past two years, so many non-profits like ours have struggled, making these types of gifts so appreciated and enable us to continue. Rebuilding Together Mountain Communities is one of the smallest chapters of the national organization, but one which has been in continuous operation for 27 years. This is a record we are proud of and is reflected by our all-volunteer board of directors.
So, it is with the utmost gratitude we say "thank you, First Foundation Bank" for your support in keeping mountain communities neighbors in need to stay Safe, Warm and Dry in their own homes. With the help of First Foundation and others we look forward to a great Rebuilding Day on April 30tt. In the meantime, we will be looking for trade and non-trade volunteers. You can call 909 336-3910 to sign up.
Don't forget if you know someone that needs immediate help, contact us now. Home-ownership and financial qualifications apply as in Rebuilding Day. Our Emergency Repair Program enables us to help neighbors in need with minor repairs year round. Repairs are performed by paid mountain contractors and reimbursed by RTMC.
Another of our programs is Home Modifications which has to do with installing grab bars and hand rails for slip and fall prevention. Call before you fall!
We are always looking for new board members. So, if you like the process of organization and making things happen for others, contact us. We are looking for people who are committed to the community. Come along with us to help others.
Contact us at:
Rebuilding Together Mountain Communities
P. O. Box 3540
Blue Jay, CA. 92317
909-336-3910
https://rebuildingtogethermountaincommunities.org/wp-content/uploads/2022/04/front-page.jpg
390
845
RTMC
https://rebuildingtogethermountaincommunities.org/wp-content/uploads/2019/08/RTMCweblogo.jpg
RTMC
2022-04-02 10:48:33
2022-04-02 10:48:33
Success Requires a Strong "Foundation" by Tim Clarke