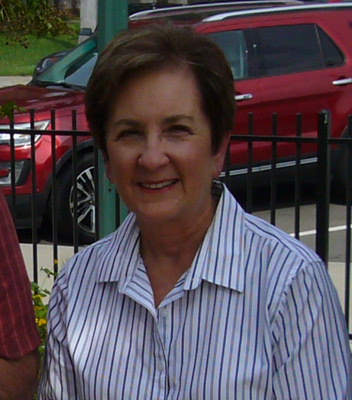 Every successful organization has one, that person, that seems to hold the group together without which all would fall apart. For Rebuilding Together Mountain Communities she is Sue Parks. When you call the main phone number for RTMC you are talking to Sue in her office at home in Arrowhead with her husband Darrell. The two of them came to know each other at choir practice and came together as a blended family eventually. Sue has always had an open heart, a bubbly personality and energy to burn. When she and Darrell joined RTMC 22 years ago she I assure you, jumped in with both feet. Not having a budget for paid staff eventually she became the office manager taking on more and more responsibilities as board members came and went. Sue has such commitment to the work that is done because of her compassion toward her mountain neighbors.
If you get any of the local papers Sue is a fixture, receiving those giant checks from donors along with other board members. She sets up all those photo ops, keeps all the appointments, attends to all the correspondence, is the primary contact with the national organization, and files all required paperwork ect.
Including RTMC she is the secretary for the Association of Building Contractors. She and Darrell attend countless rubber chicken dinners for all the things they are involved in. I think she may have been in the circus in a previous life keeping all those balls in the air. With love and joy and concern for others Sue is truly loved by all who get to know her. From a grateful Board of Directors, we love you, Sue!
Rebuilding Together Mountain Communities
P. O. Box 3540
Blue Jay Ca. 92317
909-336-3910