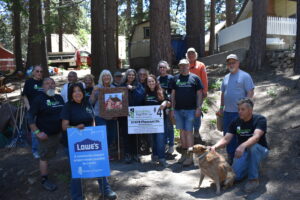 Mountain contractors and local volunteer teams reached out across the mountain communities to repair and rehabilitate homes of five citizens on the annual Rebuilding Day, organized by Rebuilding Together, Mountain Communities. Our local Rebuilding Together, formerly known as Christmas in April, originally begun by local contractors in 1995, is a way for local contracting trade volunteers, and non-trade helpers, to get involved with their communities, assuring that people in need can experience the organization's motto, "Warm, Safe & Dry." This was an especially important year for Rebuilding Day, since so many Crestline homes suffered damage in the snow storm. "We are a local affiliate of a national organization, with over one hundred affiliates nationwide," said Susan Parks, secretary of the local Rebuilding Together. Parks tells how Rebuilding Together began with a single Sunday school class in Midland, Texas in the late 1980's and spread across the country. The local chapter started when a contractor and his wife were involved in a Rebuilding Together project down the hill, and suggested to the Association of Building Contractors, San Bernardino Mountains, that this would be a great way for local people in the trade to give back and get involved their communities. So our local Rebuilding Together grew out of the Association of Building Contractors, but remains a separate entity.
For 2023, five homes of seniors or people with disabilities were selected for repairs. Several citizens applied for help, and the selection team of Rebuilding Together chose this year's recipients, based on ten criteria. Prominent local contractors, all members of the Association of Building Contractors (ABC), were appointed House Captains. Each captain led a team of trade and non-trade volunteers from mountain communities to complete assigned tasks, with the professional lending any skills and advice, sometimes bringing other professionals for specific tasks. The contractors were assisted by non-trade coordinators to help supervise the volunteers.
"These guys have been working for weeks already on their projects, and they have recruited so many of their co-workers, and they're going to hit it hard today," said Parks.
The day began at the Twin Peaks Community Center, with registration, and food provided by Jensen's, the Lake Arrowhead Resort, and Rebuilding Together. Each participant received a special logo t-shirt before reporting to their job site. "I've been doing this for six years now, and it is quite an operation to watch," remarked Tim Clarke, ABC board member. "These people are like a swarm of bees all over these houses." As the teams scattered to the job sites, the food preparation squad began preparation of individual sack lunches, with sandwiches from RB Steakhouse, to be carried to the houses at lunch time. The Depot at Rim Forest, Village Market in Running Springs, and Shell Five Points all supplied ice to the jobs.
The first house was Julie Holbert's house in the Valley of the Moon neighborhood of Crestline. The team, led by House Captain Dave Bennett, and non-trade coordinator (NTC) Cyndi Bennett, were pouring a concrete ramp for wheelchair access to Holbert's deck, and constructing railing along the rear of the deck, so she could safely view the back of her property, which overlooks the actively flowing Dart Creek. Team members also cleared brush between the house and property line. The house sponsors were the Ted Roy Foundation, and Supervisor Dawn Rowe.
Donna Foley is the occupant of the second house, in Valley of Enchantment. House Captain Matt Brule and NTC Allison Banner supervised the dismantling and replacement of Foley's wooden deck and stair treads. The House sponsors were Running Springs Area Golden Oaks, and Mountain Storage. Foley, an active gardener was grateful for the restoration work.
At Nancy Laughlin's house, in the Arrowhead Highlands area, the House Captain was Gary Poarch, and the NTC was John Moore. "We removed and replaced two French door units with two Milgard patio sliders. And we replaced the bathtub with a roll-in handicapped access shower," reported Poarch. "Copp roofing is supplying a new roof."  The deck was rebuilt, and other team members were clearing brush and splitting logs. With the help of a log-splitter provided by Lake Arrowhead Rentals, two and one half cords of wood were split. Laughlin was pleased that most of the volunteers were from her church, including Rev. Bill Stanley, and his wife, Carol. The sponsors at House #3 were Lake Arrowhead Community Presbyterian Church, and Mountain Storage.
Kat Swanson's house was the only house this year not in Crestline. The crew at the Running Springs address was captained by William Kanayan, and the NTC was Kimberly Marcelletta. Among the tasks the crew performed was replacing flooring, installing safer handrails on the exterior stairs, replacing the kitchen sink, and exterior painting. Kanayan ponted out that Rick Miller Plumbing, Wickes Heating, Apple Valley Insulation, Lowe's, and Roy's Painting contributed to the rehabilitation of this house. Three bins of discarded items were removed from the property. The sponsors of House Four were Mountain Sunrise Rotary, Sky Forest Elks, DiCarlo Trust, and Triple Edge FS.
The occupant of the fifth house, again in the Arrowhead Highlands, was the mother-in-law of the House Captain, Scott Markovich, and mother of the NTC, Susan Marcovich. Elizabeth Allen also had several loads of unused items removed from her deck and house. Allen also had a new water heater installed. The sponsors for this house were Pali/Granite Summit, and Lake Arrowhead Rotary.
Every recipient was presented with a special commemorative quilt from Dr. Ginger Gabriel and the quilting club. All of the crews were supplied with toilets from Goering Mountain Portable Toilets, and trash bins from Burrtec.
At the end of the day, all participants were treated to a spaghetti dinner prepared by Mountain Sunrise Rotary, including beer and wine service. Over one hundred local volunteers were involved in the community-wide project.
If you are aware next year of someone who needs repair help that they may not be able to afford, refer them to Rebuilding Together so they can apply for next year's event. Rebuilding Together also has an Emergency Repair program and a Safety program that are available all year. Homeowners who qualify can get help with problems such as furnace or electrical repairs, or with assistive devices such as grab bars or hand rails. The organization performed 22 emergency projects in 2022.
Rebuilding Together is a non-profit, 501c3 organization. To make a contribution, or apply for repairs, call (909) 336-3910. Most contractors in the organization are also members of The Association of Building Contractors San Bernardino Mountains, Inc. These licensed professionals are listed in the 2023 Membership Directory, a free publication distributed by Mountain News through several kiosks around the communities. ABC also has a website at www.lakearrowhead-abc.com.
Article By Stanley Oswalt (Thank you Stan!) June 28, 2023 reposted with permission from the Mountain News https://www.mountain-news.com/
https://rebuildingtogethermountaincommunities.org/wp-content/uploads/2023/07/1005-scaled.jpg
1707
2560
RTMC
https://rebuildingtogethermountaincommunities.org/wp-content/uploads/2019/08/RTMCweblogo.jpg
RTMC
2023-07-03 17:21:17
2023-07-03 17:21:54
Rebuilding Day By Stanley Oswalt