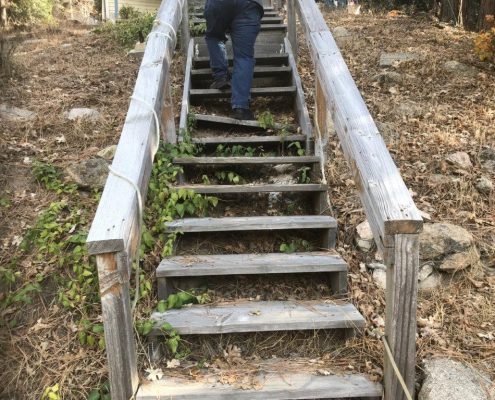 Six months into the current financial year, (July 2019 to present), the board of Rebuilding Together Mountain Communities is pleased that its Emergency Repair Program is on track to serve more homes this year than ever before. Last year we funded repairs to 24 homes. To date in just 6 months we have already completed 24 home repairs, benefiting 41 neighbors. Emergency Repairs mean a great deal to the RTMC board because it goes to the heart of the organization's goal, keeping low income homeowners "Safe Warm and Dry". This program in no way overshadows the signature event of Rebuilding Day in April, but is seen as a way to help people in need right now. Astonishingly, in this day and age, this comes with no government funding… just neighbors helping neighbors.
This winter has indeed come in like a lion and has put a strain on homes and their systems. Whether clogged plumbing or frozen pipes, dangerous electrical systems, failed heaters, be it air or water, we have seen it all this season and brought back normalcy to our neighbors in need. Don't take our word for it, take the family of 5 in whose heater was replaced so they could return to their home from their relative's home. Carol of whose clogged sewer was creating an unhealthy environment. Joan who can finally lock her front door and have an intact front window again. Most people we serve just can't believe that people are willing to help them without compensation. "Yes, Virginia there is a Santa Claus".
Unlike Santa, we must follow the new energy and clean air standards when our contractors do the work. Energy Efficiency comes at a price, sometimes as much as triple what was paid in years past. Higher prices have meant putting more money into the program. This year alone, we have increased the budget for Emergency Repairs twice doubling the previous budgeted amount. We were happy to do it to help neighbors in need. We can only do this because of the generosity of the mountain communities as well as the generous organizations, businesses and service clubs. So far, this current funding period we are running slightly behind last year, but we are sure that we will make up ground and pull ahead.
RTMC would like to give a special thank you to the following foundations that have given so generously this year to do so much for others. Archstone Foundation, Leo Buscalia Foundation, The Community Foundation, and Lowes Corporation.
If you want to help or increase your community investment reach out to us soon. See all of you in April, if not before.
Rebuilding Together Mountain Communities
P. O. Box 3540
Blue Jay Ca. 92317-3540
909-336-3910
www.rebuildingtogethermountaincommunities.org