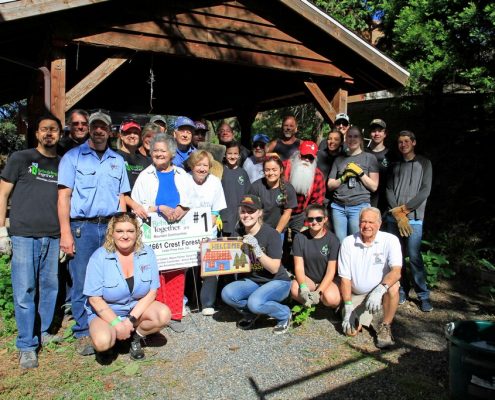 A New Year's message from Rebuilding Together Mountain Communities
Rebuilding Together Mountain Communities Board has affirmed the recommendation of the selection committee for 5 homes for the 2020 Rebuilding Day on April 25th. In addition to those for Rebuilding Day, some others have been selected for Emergency Repairs. This last year RTMC preformed many more emergency repairs. As a result, RTMC has increased the budget in this area because the need is so great. Known as Christmas in April originally, Rebuilding Together Mountain Communities has grown and expanded in 26 year's but is still run exclusively by community volunteers. Our communities need us more today than ever. Young families leave the mountains for greater opportunities. Some older residents leave for senior living elsewhere. We are left with an older smaller population base.
As many as 60% of residents in many areas are part time residents. Of the fulltime residents left, many have no choice but to stay, as the greatest part of their wealth is their home. Rent being what it is, moving is not a choice. Let's not loose the very people that contain the oral history of our mountain home. This is where RTMC comes in. We try to keep people safe, warm and dry in their own homes.
To continue this work, we need the support of the community. Everyone can help, $1500 or more will make you a house sponsor but any amount will qualify you as a concerned neighbor. Donations can also come as contributing professional services to be used on Rebuilding Day and Emergency Repair projects.
Whether as emergency repairers or volunteers on Rebuilding Day our mountain trades people and licensed contractors have been invaluable, as well as hundreds of non-trades community volunteers show up each year on Rebuilding Day opening their hearts and rolling up their sleeves to help their neighbors, giving a priceless gift.
April is right around the corner, so we need you to contact us soon to sign up for this traditional community effort.
Reach out to us soon
Rebuilding Together Mountain Communities
909-336-3910
P.O. Box 3540 Blue Jay Ca 92317