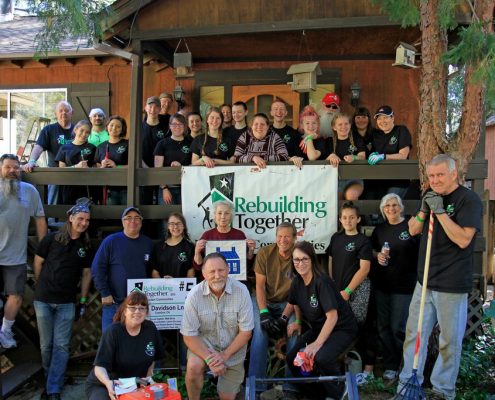 The first question Rebuilding Together Mountain Communities receives in any conversation, be it a social setting or on the phone with a prospective applicant, is, "How do you decide who gets help?" The simple answer is we use a rating sheet where several factors are listed and points are given for each category during the site inspection. When all homes have been inspected the points are tallied and the 5 to 6 highest are selected. Simple right? Hardly. We truly want to help everyone and sometimes it hurts to have to say no to someone who is struggling or is worried about problems with their property. We see that this home may be the only asset that they have, and may symbolize independence and normalcy. RTMC'S goal is to keep you "Safe, Warm, & Dry in your own home" with the help of our neighbors.
To do this work we require help from volunteers, contributors and our mountain contractors. When all of us work together we make lives better and help to keep our mountain community beautiful and vibrant.
Each year we ask those that can, to become a home sponsor with a contribution of $1500 or more entitling them to be recognized helping a particular home. Not everyone can be so generous, but any amount will help from any person or group. Consider it an investment in your community and your neighbors.
By the middle of November, the selections will be made and this 26-year organization will be working toward another successful Rebuilding Day on the last Saturday in April, 2020. We hope to see you there,prepared to receive that warm feeling like no other, of helping your neighbor.
For more information call our office at 336-3910 or visit our website at info@rebuildingtogethermountaincommunities.org where you can make an online donation, or you can mail a check to RTMC, Box 3540, Blue Jay, CA. 92317.