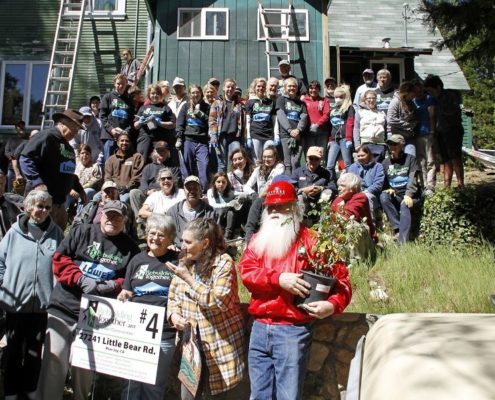 Rebuilding Together Mountain Communities welcomes the surge of new full-time residents to the mountain neighborhood. For those of you who may be wondering how you can get involved in your new community and what is RTMC all about….in a nutshell, twenty six years ago a local contractor and his wife went to L.A. to see what Rebuilding Day was all about and decided why not here. A mountain affiliate was created and eventually morphed into the national Rebuilding Together nonprofit organization. Nationwide, on the last Saturday in April each year, contractors and skilled tradesmen work in concert with hundreds of community volunteers, repairing the homes of low income neighbors in an effort to keep homeowners in their homes, "Warm, Safe and Dry". As one of the original homeowners said, "It's like Christmas in April"!
Thanks to a nonpaid Board of Directors, applicants are recruited and screened throughout the mountain communities, and are chosen to receive help on Rebuilding Day based on their need. Very simply put, that's it. All this takes money. While all donations are welcome, you could be a home sponsor for a base donation of $1500, or more, and your name will be listed on the yard sign.
But what about people that can't wait till April? That's why we have a year around Emergency Repair Program that did a record 45 repairs last fiscal year which ended in July. These repairs are done by contractors primarily, which are paid for their services. Whether a new water heater, secure doors, roof leaks, etc. If you qualify it's all free of charge. We also have a home safety program which installs safety grab bars in bathrooms. All these programs are offered at no charge to qualified residents.
RTMC knows that this has been a tough year for everyone and harder for some than others, but to continue we must raise money from our community, corporations, local businesses, nonprofits, and others. Please join us in helping our neighbors in need to maintain their single biggest asset and restore their pride in home-ownership.
Contact us at:
Rebuilding Together Mountain Communities
P.O. Box 3540